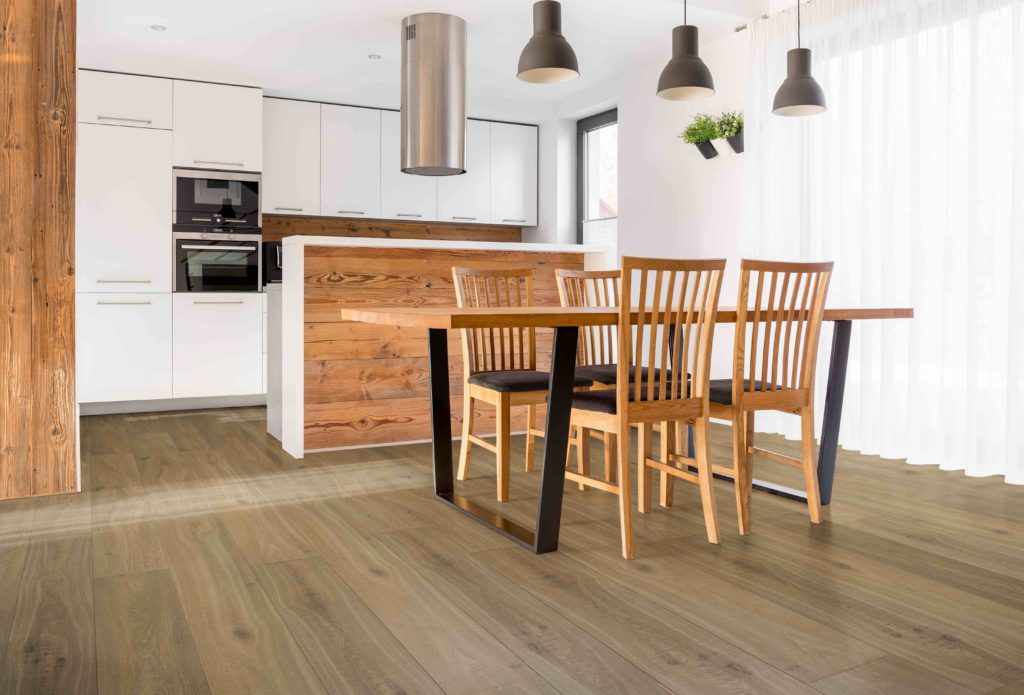 Vinyl wood flooring isn't just a top-quality flooring option which gives you a stunning visual, it's an easy option for all types of environments. As a designated do it yourself flooring choice, it doesn't require professional installation so you can lay the floor in any room without expert assistance.
Furthermore, vinyl wood flooring is a great choice for a wide range of locations. Its high level of durability and rigid limestone-based core ensures it will stand up to a large amount of foot traffic, so you needn't shy away from installing it in busy areas.
In addition to this, our waterproof flooring means you'll have added protection from spills and moisture, which is perfect in busy, family homes! With an easy-to-clean surface, you won't have any problems cleaning up mess or dirt and you won't waste time either.
Perfect for kitchens and bathroom
Homeowners are often reluctant to install laminate flooring in kitchens and bathrooms because they assume the flooring will warp, lift or become damaged. Although kitchens and bathrooms do have a typically higher moisture level than other areas of your home, this needn't prevent you from installing luxury vinyl wood flooring.
As Firmfit's unique flooring is 100% waterproof, it won't be subject to damage if it's installed in these areas. What's more – our SE+ Antibacterial Coating is specifically designed for high-moisture environments.
The more moisture you have in a room, the quicker bacteria can multiply and spread, and it's often this which causes damage to flooring. With our SE+ Antibacterial Coating, however, over 99% of harmful bacteria is killed, so you won't have to worry about mould or moisture.
Designed for families
Family life is hectic at the best of times, and you need flooring which can deal with the strain it will be put under. Heavy footfall, pets and children can take a toll a lower quality flooring options, but Firmfit's luxury vinyl flooring won't crumble under pressure.
Increased stain and scratch-resistance will keep your floor in tip-top condition, and increased strength will ensure the planks won't lift or move over time. In fact, our commitment to top quality construction means you can rely on our vinyl wood flooring to be long-lasting, hardwearing and tough.
Easy installation
If you want flooring which requires simple and straightforward installation, it doesn't get much easier than our click vinyl flooring. With easy-to-follow instructions, you can achieve a professional finish with the minimum of fuss. You won't need specialist tools in order to install your new flooring, nor will you need help from skilled tradespeople and experienced fitters. Our luxury waterproof flooring has been designed with you in mind, so you can be confident that the install will be simple, efficient and hassle-free.
If you want to learn more about vinyl wood flooring and what it can do for you, why not get in touch? Contact us at Firmfit and find out more about top quality flooring options today.